Updated post.
This post brought to you by Delicious Alchemy. The content and opinions expressed below are that of Honest Mum.
One of my preferred gluten-free brands is Deliciously Alchemy and I'm delighted to be invited to work with them as they've just launched the UK's only gluten and dairy free instant porridge pots and oats sachets in addition to their wide range of high quality bread and baking mixes and breakfast products.
Deliciously Alchemy was founded by Emma Killilea who gave up gluten for health reasons after she was diagnosed as coeliac.
Emma was pretty unimpressed by the variety of gluten free produce available when she was first diagnosed so she set out to change that.
Giving up her job as computer games producer, she headed back to uni, studied nutrition and marketing and then Delicious Alchemy was born. What an inspiration.
And Delicious Alchemy's baking and bread mixes are off the chain good!
Hello brownies!
In fact so much so, I always make sure my cupboards are well stocked with their baking products. They're super simple to make, so perfect for those days when you want fuss-free baking with all the great taste!
They're always sharing superb recipes on their Delicious Alchemy Facebook and Delicious Alchemy Twitter, so make sure you check them out for lots of wheat free inspiration.
We were sent a hamper of gluten free goodies to review below and we were so impressed! Check out the brownies and bread recipe below.
So soft and gooey and full of flavour!
As well as being gluten free, the brownie mix is dairy free too, whilst all their products are GM free too.
We also had a go at baking the Deliciously Alchemy Bread too! So simple and just as good as any loaf you'd buy in a bakery!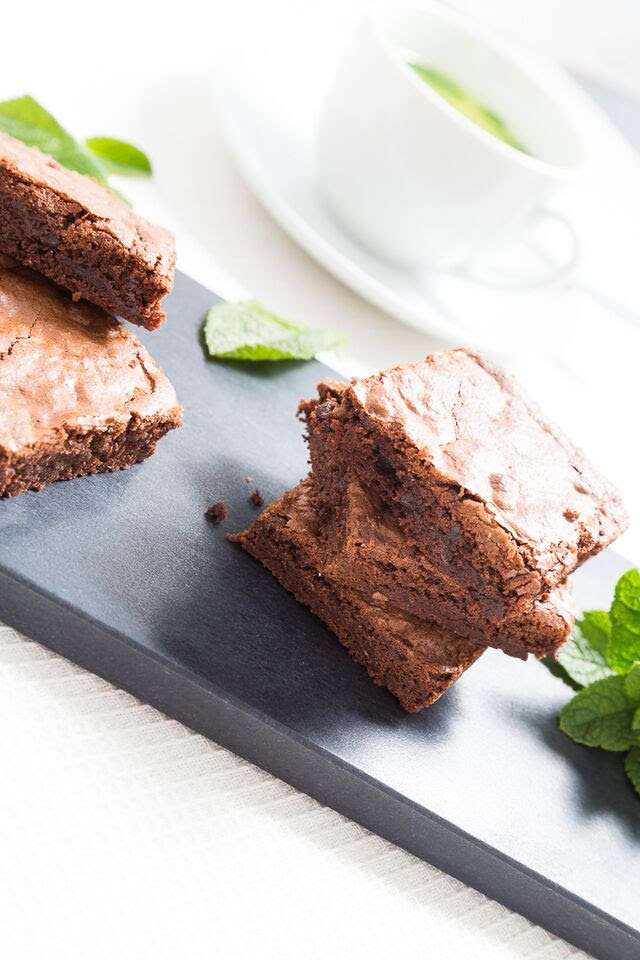 Check out the recipes below:
To make 12 brownies, you will need:
400g Delicious Alchemy Gluten & Dairy Free Chocolate Brownie Mix
100g unsalted butter or dairy free alternative
2 large eggs
Method
Preheat the oven to 180c /160c fan. Line a 20cm (8 inch) square tin with greaseproof paper, leaving in an inch of the paper to overhang.
Add the Delicious Alchemy Chocolate Brownie Mix to a bowl. Melt in the butter and stir into the brownie mix. When it starts to form a light batter, lightly beat the eggs and add to the mix and stir well. Pour the batter into the tin, smooth the top.
Bake for 18 – 22 minute. Remove from oven and leave to cool
I like to enjoy mine slightly warm still so they're super gooey in the centre! Perfect with a refreshing cup of fresh mint tea.
Check out our recipe video too:
We made our bread in the oven, but the mix is also suitable for bread making machines too! It's so simple to make, all you need is:
1 x 340g Delicious Alchemy White Bread Mix
2 tbsp (15g) sunflower oil
325ml of tepid water
Method
Lightly grease a 1lb 15cm x 10cm x 7cm bread tin. There's no need to pre-heat the oven as this mix cooks from cold. Add the mix to a bowl and pour in the oil and water. Mix it all together.
Its better to use a food mixer as the batter can become very thick, so unless you have arms like Arnie you may struggle with a normal spoon.
Turn the mixer to medium speed and beat for 90 seconds. Scrape down the sides and base of the bowl and mix for a further 90 seconds.
Transfer the dough into the tin. It will be quite thick, so press down well and fill the tin right to the rim.
Loosely cover the tin with lightly oiled cling film. Leave to prove in a warm place for 40 minutes and then add to a COLD oven.
Then turn to 190C or 165C for fan-assisted ovens, and bake for 90 minutes. Only remove when it has a nice golden top. Leave to cool on a tray before serving.
And here is the bread video Peter and I, made!
How would you like to try making your own bread and baking mixes or breakfast products too?
Buy my bestselling book in paperback or audio
My debut book is my guide to surviving and thriving at work and at home and offers insight into how to create a digital business or return to work with confidence.
Mumboss: The Honest Mum's Guide to Surviving and Thriving at Work and at Home
(UK 2nd Edition)
Available on Amazon or Audible
The Working Mom: Your Guide to Surviving and Thriving at Work and at Home
(US/Canada Edition)
Available September 8th 2020. Order now on Amazon